Linear Slide Upgrade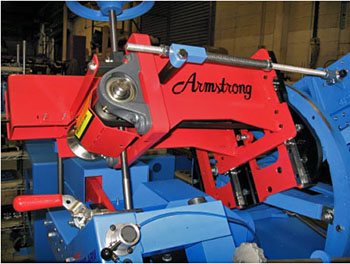 Add Grinding Capacity on existing equipment!
The Linear Slide is an upgrade for Armstrong Bandsaw Grinders. This "bolt on" addition for #4 & #6 Grinders improves productivity, reduces grinding wheel cost and improves Bandsaw grind quality.
Grinding Wheel cost reductions of up to 37.5%!
Eliminate 3 dressing rounds per saw after a wheel change, saving 24 minutes per saw.
Consistent grind throughout the entire gullet of saw means less chance of gullet cracks!
Payback in as little as 1 year! See your personalized potential payback using our on-line calculator.
*Contact your local dealer for details.